Phone: 6464706598
Email: [email protected]
Website: http://www.eroticswingerny.org/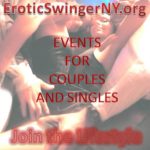 Swinger Parties and Meet ups at local clubs, bars, beaches, etc.
For only the YOUNG, HOT, and SEXY. Under 35, with very limited exceptions.
We are 22/24 and founded this group to ensure that when we party its only with the Hottest Couples and Singles.